Allie Wainer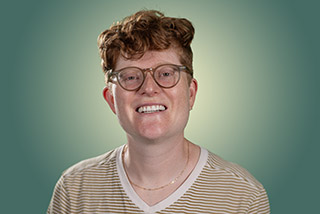 ---
111 Market Place, Suite 840, Baltimore MD 21202
Program Officer

Allie joined the Center for a Livable Future in 2023 as a Program Officer to work on projects at the intersections of climate change, community-driven food policy, and food systems. They bring experience working with local governments and organizations as a climate resilience consultant, creating and implementing climate change plans and policies. They have also worked in positions to preserve affordable housing in New York City and as a research assistant for a community-based participatory research project with the City of Somerville, Massachusetts.
Allie earned a dual masters degree at Tufts University in Urban & Environmental Policy and Planning, and in Food & Nutrition Policy. Their graduate thesis explored strategies that transportation planners can use to increase food access.
After studying the nutritional and functional impacts of using sprouted grains to bake breads and visiting the Bread Lab at Washington State University, they went on to create a new curriculum for the Tufts University Friedman School using grains as a platform to study the intersections between sustainability, nutrition, culinary arts, and equity in regional food systems. They were drawn to the Center by a desire to use their experience and knowledge in food systems to focus specifically on mitigating GHG emissions in the food system.
Allie has been exploring the trail system in regional and state parks throughout Baltimore County.