Education Partnership Takes a Bite Out of Food Insecurity
CLF Teams Up with Maryland Hunger Solutions on New Teaching Resource for Annual "Hear the Crunch!" Event
Mar 07, 2017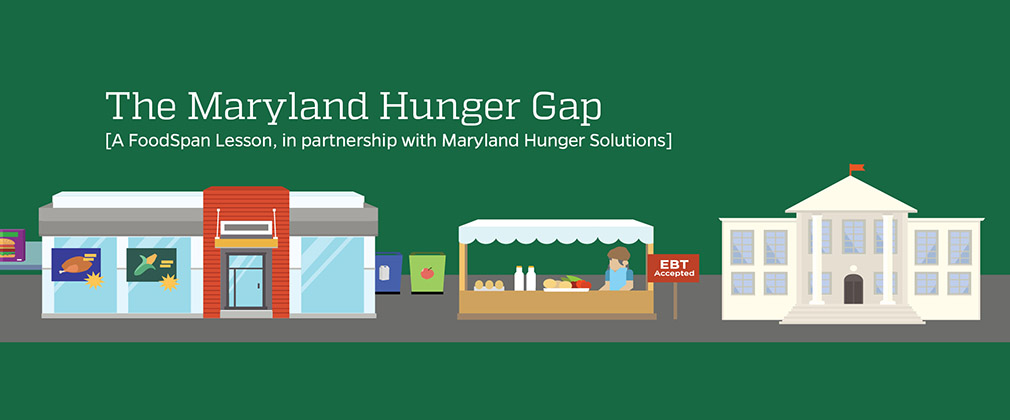 Today, students across Maryland participated in the annual "Hear the Crunch" event by biting into an apple at the same time. The event, organized by the nonprofit group Maryland Hunger Solutions, offers students a fun, healthy, and tasty way to celebrate National School Breakfast Week. During this year's "Hear The Crunch," Maryland students also got an important lesson about food insecurity along with their apple.
Experts at the Johns Hopkins Center for a Livable Future (CLF) partnered with Maryland Hunger Solutions to develop a free lesson and activities for teachers to use in conjunction with "Hear the Crunch." In addition to informing students about important issues related to hunger and food insecurity, the lesson encourages students to explore interventions, and take a stand on the merits of expanding universal school breakfast programs. The lesson was adapted from FoodSpan, CLF's free, downloadable curriculum for high school educators spanning critical food system issues from farm to fork.
"It was a privilege to work with Maryland Hunger Solutions on this project," said Natalie Wood-Wright, public affairs director for the CLF, and a contributor to the lesson. "One of our shared goals was to give students the information and tools they need to think critically about school breakfast programs and other efforts to address food insecurity in Maryland."
Research suggests that universal school breakfast programs can help ensure that students in participating schools are fed and ready to learn. School breakfast programs have also been shown to improve behavior and academic performance and help students maintain a healthy weight. Although Maryland has made progress in increasing access to school breakfast, according to a recent report, only 65 percent of low-income children in Maryland who participated in the National School Lunch Program also participated in the School Breakfast Program during the 2014–2015 school year.
The "Hear the Crunch" campaign aims "to help raise awareness of the important role that school breakfast plays in ensuring children have access to healthy food," and has enjoyed high participation rates in Maryland schools over the years. Schools from every school district in the state participate, and the Mayor of Baltimore and Maryland State Representatives have also been involved in the campaign.
"In years past, teachers told us that 'Hear the Crunch' sparked interest in learning more about school breakfast," said Michael J. Wilson, director of Maryland Hunger Solutions. "We hope this lesson will be a useful resource for teachers who will continue important conversations with students about the fight against childhood hunger long after 'Hear the Crunch' is over."
You can download the Maryland Hunger Gap FoodSpan Lesson here along with 17 other free and complete lessons regarding other aspects of the food system.
For more information about the Hear the Crunch campaign from MHS please visit their site here.