Public Health in Action: Stories from the Local Food System
The Center for A Livable Future Polly Walker Ecology Fund Lecture
April 28, 2016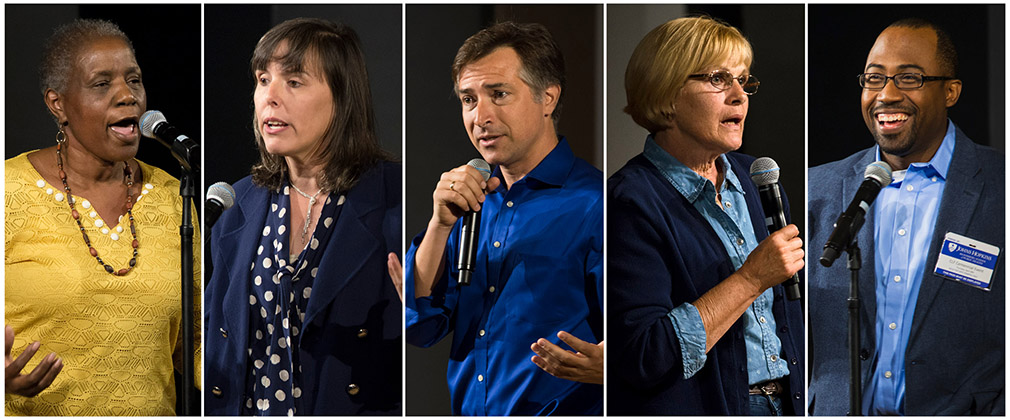 The Johns Hopkins Center for a Livable Future has recruited an all-star cast of five Baltimore area food system players - a food czar, an advocate, a clergy-activist, an environmental journalist and a chicken farmer. (This is not the beginning of a bar joke.) They will tell tales of their food system travels and their collaborations with Johns Hopkins researchers on matters such as healthy food production and food justice. Our storytellers are:
Tom Pelton
Environmental Journalist
Tom is the host of the "The Environment in Focus" on WYPR 88.1FM, a weekly radio program offering perspective on the issues and people changing Maryland's natural world. Tom also serves as the director of communications for the Environmental Integrity Project.

Carole Morison
Chicken Farmer
After working as an industrial poultry farmer for 23 years, Carole broke away from conventional contracts to begin Bird's Eye View Farm, where she raises laying hens on pasture in Pocomoke City, Maryland.

Holly Freishtat
Food Czar
Holly Freishtat serves as Baltimore City's Food Policy Director, where she takes food access seriously and works city-wide with many government departments to align priorities and projects around improving the Baltimore City food environment.
Joyce Smith
Advocate
As the Center for a Livable Future's Community Relations Coordinator, Joyce ensures that interventions and programs directly benefit neighborhood residents. Joyce also serves as the president of the Operation ReachOut Southwest, a community association that works to reduce health disparities impacting low-income neighborhoods.

Rev. Dr. Heber Brown III
Clergy-Activist
Dr. Brown is the Senior Pastor of Pleasant Hope Baptist Church in Baltimore. As a reverend and community activist, he has demonstrated a deep commitment to a myriad of social justice issues from poverty, to racism, environmental justice, and more.