Baltimore's Food Landscape: An Ecology of Plants, People and Policy
The Center for A Livable Future Polly Walker Ecology Fund Lecture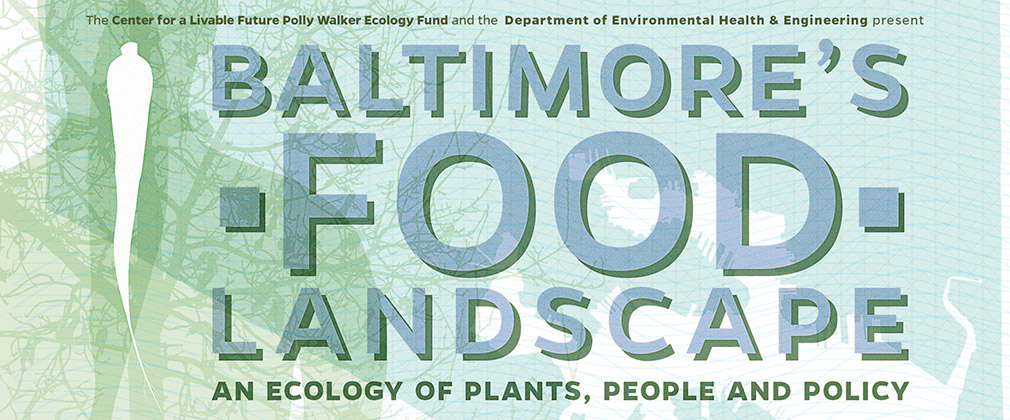 Digging Into Baltimore's Food Landscape
We entered the greenhouse and peered into the fish tanks: just a few days earlier, 40 beautiful tilapia had been harvested from them. The tilapia, raised from fingerlings for about a year, had been residents of the Johns Hopkins Center for a Livable Future Food System Lab, located at Cylburn Arboretum, and the aquaponics project is one of several education projects ongoing at the lab. New fingerlings, raised at nearby high school Baltimore Polytechnic Institute, were on their way.
Undeterred by the 95-degree weather, more than 60 people attended "Baltimore's Food Landscape: An Ecology of Plants, People and Policy," held at the arboretum and sponsored by the Center for a Livable Future (CLF) Polly Walker Ecology Fund on June 13. Our group listened closely as Jesse Blom, CLF's farm manager and educator, showed us around the multifunctional greenhouse that houses the fish and a bounty of crops being nurtured by the tilapia's wastewater.
"In my opinion what the system does best is teach us how to treat our wastewater as a resource," said Blom.
He and Raychel Santo, a senior program coordinator at CLF, discussed the advantages and shortcomings of urban agriculture in the city. Because of expensive inputs like heating the greenhouse in the winter, raising the fish and selling them, they said, is a net economic loss—but raising the plants is a net economic gain. Santo emphasized that it's important to manage expectations when embarking on urban agriculture projects. It's important to be clear about what it can do, and what it can't do, she said.
Meanwhile, at another session held in the arboretum's Vollmer Center, participants learned about how the city's Office of Sustainability is partnering with CLF on food system resilience planning. The goal of this partnership is to figure out how to put policies and mechanisms in place that would make sure the city's most food insecure residents are not left hungry in the event of a shock to the system, like a blizzard, epidemic or other stresses. We broke into groups and were presented with disaster scenarios. From there, we were challenged to brainstorm ways to plan ahead in order to mitigate the disaster's negative impact on the food system.
And in yet another classroom, participants were introduced to ideas about how what we eat and what we waste connect to climate change. Presented with data in traditional formats like bar charts and graphs, we were challenged to create a communications plan for conveying messages, aimed at the general public, that connect our diets with greenhouse gas emissions, wasted food and more.
Holly Freishtat, Baltimore's food policy director, introduced the event along with Jim Yager, CLF's acting director, and Cylburn Association executive director Patricia Foster made closing remarks. The afternoon ended with a tilapia taco feast—with fish locally sourced from you-know-where.
—Christine Grillo