Menus and Meals: Climate Action's Best-Kept Secret for Cities and Businesses
September 12, 2018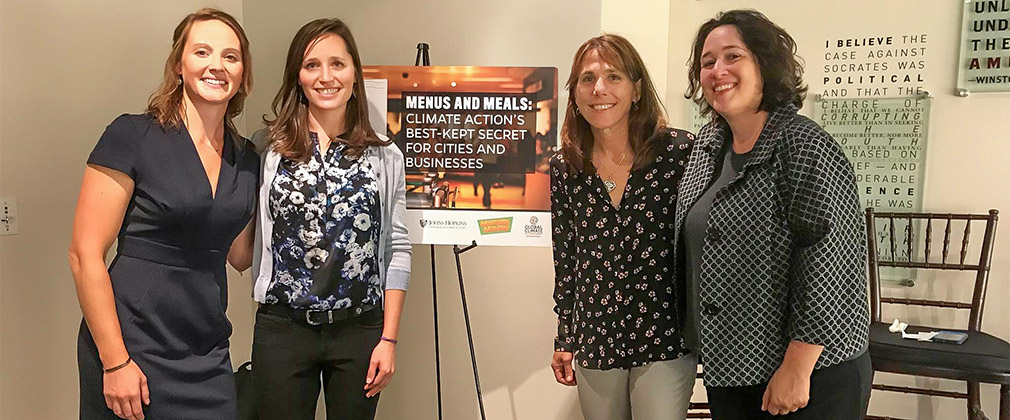 On the eve of the Global Climate Action Summit (GCAS) in San Francisco, the Johns Hopkins Center for a Livable Future (CLF) and the Meatless Monday Campaign co-hosted an event to highlight the role businesses, organizations, and communities can play in shifting towards climate-friendly diets. Peggy Neu from The Monday Campaigns moderated a panel discussion with Alexandra Emmott, San Francisco Unified School District; Santana Diaz, UC Davis Health; Sarah Douglis, Bedford 2020; and Christine Seitz, Compass Group. Panelists discussed strategies they use in their businesses and communities to reduce meat and shift to more sustainable food service, such as implementing the Good Food Purchasing Program, serving more plant-rich menu options, and implementing Meatless Monday.
This event was one of only a handful out of hundreds of events affiliated with the Global Climate Action to specifically highlight food consumption changes as a critical climate change solution.
Some foods, especially animal products, have a much larger climate footprint than others—but diets and food consumption in are often overlooked in climate action conversations. Cities are home to the majority of the world's population and are centers of commerce and innovation. As such, they are uniquely positioned to help reach mitigation targets through policies, procurement and other strategies.
Panelists:
Alexandra (Alex) Emmott
Culinary Manager, San Francisco Unified School District (SFUSD)
Alexandra joined SFUSD as the Culinary Manager in the Student Nutrition Services (SNS) Department in January, 2018.  At SFUSD, Alex oversees menu planning and procurement for over 6 million meals annually and works closely with the entire SNS team to increase scratch-cooked, sustainable, student-vetted menu and serving concepts.  Previously, Alex worked at Oakland Unified where she managed the District's nationally recognized Farm to School program, including the adoption and implementation of the Good Food Purchasing Program. 
Santana Diaz
Executive Chef, UC Davis Health
Chef Diaz works with dietitians and nutritionists at UC Davis Health to create new food offerings in the medical center's café as well as through its catering, all specialty/sponsored off-site events and the new patient dining program. Bringing whole food plant-based options to the medical center via large scale production without compromising flavor is one of his goals in finalizing menus and working with local purveyors to execute the new UC Davis Health farm-to-fork food vision and minimizing food waste.
Sarah Douglis
Strategic Partnerships Advisor, The Leonardo DiCaprio Foundation and Board Member Bedford 2020
Sarah leads the strategic development and cultivation of Corporate Partnerships for The Leonardo DiCaprio Foundation. She founded SolTide Consulting in 2013 to create strategic partnerships  supporting clients in corporate social responsibility strategies, business development, marketing, and community outreach and education strategies. Prior to SolTide, Sarah spent a decade in various leadership positions as a founding member of EcoMedia, a division of CBS Corporation (www.ecomediacbs.com) earning the prestigious Edison Award for Social Innovation in 2012 and 2013.
Peggy Neu
President of the Monday Campaigns
Peggy Neu is President of the Monday Campaigns, the nonprofit public health organization behind the global Meatless Monday movement. Since the campaign was founded in 2003 with the Johns Hopkins Center for a Livable Future, it has spread to over 40 countries in 22 languages, demonstrating the universal appeal of an idea that's simple to understand and easy to do. Peggy joined the Monday Campaigns in 2008 after a career at Grey Worldwide, one of the world's largest communications firms, in order to bring marketing best practices to the challenges of public health.
Christine Seitz
Vice President of Culinary Strategies for Envision Group, Compass Group
Christine joined Compass Group in 2012 and currently serves there as the Vice President of Culinary Strategies for Envision Group. Current initiatives include corporate food philosophy for healthy sustainable menus and commitment to the adapted Menus of Change initiatives; plant forward menuing and training; working with farmers, distributors and chefs to rescue produce through Imperfectly Delicious Produce (IDP); Teaching Kitchen, and Chef Profitability trainings. Before working at Compass Group, she worked as an executive chef and general manager at Bon Appetit Management Company.
This event is organized by the Johns Hopkins Center for a Livable Future and
the Meatless Monday Campaign
.
For more information about how Meatless Monday can help meet your climate goals, download the
guide
for implementing the program in your city or community.