Liz Nussbaumer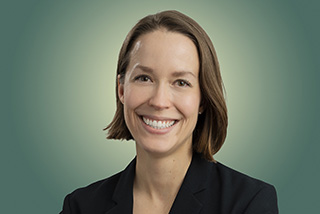 @LizNussbaumer on Twitter
---
111 Market Place, Suite 840, Baltimore MD 21202
Project Director, Seafood, Public Health & Food Systems Project

Liz joined the Center for a Livable Future in 2019 as a Program Officer in the Seafood, Public Health and Food Systems Project, following nearly seven years at Food & Water Watch in Washington, D.C., where she worked most recently as a senior researcher. Previously, Liz earned a Master of Public Policy, focusing on environmental policy and international development, at American University, where much of her research investigated the root causes and impact of industrial monoculture farming. Her recent areas of interest include ocean acidification and its effect on fisheries, as well as industrial poultry operations, pollution trading, bottled water, renewable energy and more.
At the Center, Liz is working to convene organizations and individuals to raise awareness on the seafood, public health and food systems nexus. In this capacity, she is able to learn from a wide range of people who connect with the farmed and wild seafood space, from producers to consumers and everyone in between.
Liz enjoys approaching the food system with an oceans-centric perspective. "So often, when doing food systems work, the ocean isn't given enough attention, in comparison to terrestrial food systems," she says. "This is a huge area to work in." Outside of the office, Liz aspires to more gardening and a variety of homesteading activities. An adventurous traveler, she and her husband love to sample local foods, ranging from chapulines and nopales in Mexico to cuttlefish in Italy.