Johns Hopkins Center for a Livable Future Hosts First National Forum for Food Policy Councils
Sep 14, 2021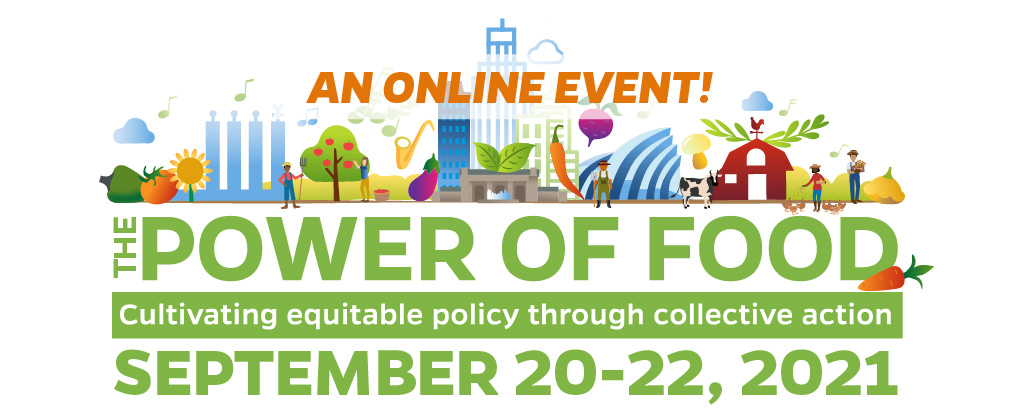 Virtual forum will bring together people and organizations from across the US working to improve local, state, Tribal and regional food systems. Participants will represent more than 150 food policy councils spanning 45 states and 2 Canadian provinces.
Hundreds of US food policy council members along with leaders in food and farm policy will convene September 20 to 22, 2021, for The Power of Food: Cultivating Equitable Policy Through Collective Action. This virtual forum is hosted and organized by the Johns Hopkins Center for a Livable Future (CLF) and offers food policy council members and similar groups the opportunity to connect with each other through conversation-based sessions, skills-building workshops, and panel presentations to explore how food policy councils can contribute to building a healthy, sustainable, and equitable food system.
"This forum is an opportunity for food policy council members to engage with and learn from their peers around the country," said Anne Palmer, MAIA, Director of the Food Communities and Public Health program at the CLF and an associate scientist with the Johns Hopkins Bloomberg School of Public Health's Department of Health Behavior and Society. "Our hope is that this forum will allow food policy council members to build skills and knowledge to move their work forward, and consider what it means to use policy to address systemic issues like racial equity and economic justice."
Unlike a typical conference, the Power of Food forum offers participants opportunities to share experiences and tools, strengthen relationships, and re-energize for action through interactive sessions. Originally planned as an in-person gathering in Kansas City, Missouri, the forum shifted to virtual when the COVID-19 Delta variant rates increased. Many food policy council members found themselves on the front lines of the coronavirus pandemic working to address policy gaps in their communities, mitigate increased rates of food insecurity, and maintain the stability of the fragile food system. Forum sessions will include conversation catalysts on topics ranging from equitable food systems and economic justice to intersectional policy work and strategies for policies that affect food producers and farmworkers. Plenary sessions and panels will bring together leaders in food and farm policy to discuss the role of values and power in shaping food policy today. Throughout the forum, leaders in this field will be invited to reflect on the need to balance systemic issues like racism and poverty with more immediate food system policies like food insecurity and shocks to the food system like COVID-19.
"The coronavirus pandemic has highlighted the importance of a strong and sustainable food system that works for all," said Karen Bassarab, MSCRP, senior program officer at the CLF. "For the first time, many food system workers were deemed essential employees, and it became clear to the general public how much the food distribution, retail, and processing industries depend on workers. The pandemic also exasperated food insecurity and issues of healthy food access among vulnerable populations. The work of food policy councils is critical to supporting local food systems and this forum is a place for acknowledging and fostering engagement."
"By helping food policy councils to connect, the Power of Food Forum is convening people and groups that are transforming food systems to become more healthy, equitable, just, and sustainable," adds Martin Bloem, MD, PhD, Director of the CLF and the Robert S. Lawrence Professor of Environmental Health at the Bloomberg School. "This unique and multifaced network of councils is changing and informing policy at all levels of government, and giving a stronger voice to those who need to be heard."
The Power of Food: Cultivating equitable policy through collective action, is being organized in partnership with KC Healthy Kids and the Mid America Regional Council with support from sponsors. For more information about the forum or to register to attend, click here.