Controversies around Farm Workforce Modernization Act
February 20, 2020
By: Anna Aspenson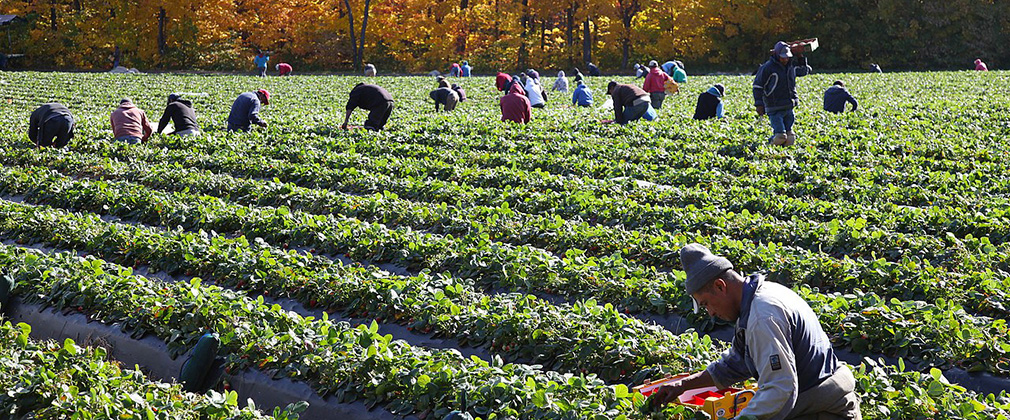 WASHINGTON, DC—Feb. 19, 2020. The current US farm economy faces some significant challenges that are interwoven with our current immigration system. Farmers are challenged by severe labor shortages, while farmworkers must contend with a lack of protections and an unclear pathway to citizenship. Nearly 50 percent of immigrant farmworkers lack authorization to work in the United States. Many advocates believe that a pathway for migrant farmworkers to obtain permanent residence is necessary, but that it needs to be available in ways that are fair and reasonable.
The Farm Workforce Modernization Act is a bipartisan bill that purports to create that pathway. At the Johns Hopkins Center for a Livable Future, we work to investigate the connection between immigration status for individuals in farm labor and public health. In doing research on the bill, we've found there's quite a bit of controversy about its anticipated impact on the problem it proposes to solve.
Current status of the Farm Workforce Modernization Act
The bill is the product of months of negotiation among policymakers and groups that represent growers and farmworkers. It's intended to simultaneously provide a pathway to legal immigration status and citizenship for farmworkers and meet the labor needs of growers. The bill had its House markup in November.  Here are the three major components of the bill.
Earned status for certified agricultural workers
Qualified workers would be granted a five-year renewable work visa and the opportunity to apply for permanent resident status. But the application for residency includes many restrictions and fees.
Changes to the H-2A program 
This provision would expand the H-2A program by allowing more work visas and year-round contracts. It adds modest protections for workers, while eliminating others. For example, the bill applies caps to the wage rate for all farmworkers. Many stakeholders have expressed concern with expanding a flawed H-2A program. 
Mandatory E-Verify for the agricultural sector
E-Verify is a federal system to determine authorization to work in the United States. In the agricultural sector, employees do not have access to E-Verify results and cannot appeal any system errors. Currently, contractors who deny work to certain laborers can state that the person was not verified in the system, while denying work for other reasons, such as age or sex. As a result, advocacy groups have argued that mandatory E-Verify would establish dangerous precedent for discrimination and errors.
Farmworker groups such as Farmworker Justice and United Farm Workers endorse the Farm Workforce Modernization Act, along with 300 agricultural organizations such as United Fresh Produce, Western Growers, and U.S. Apple.
On the other hand, there are those who believe the bill may have too many negative unintended consequences. Farmworker groups that oppose this bill include Community to Community (C2C), Familias Unidas por la Justicia, El Comite de Apoyo a las Trabajadores Agrícolas (CATA), and United Food and Commercial Workers International Union (UFCW), among others. Food Chain Workers Alliance explains, "The current proposed changes only reinforce the significant power imbalance between employers and workers." Similarly, C2C argues that the expansion of H-2A would, "continue a trend that has been displacing domestic farmworkers for the last twenty years."
Regarding the mandatory use of E-Verify, C2C states, "This mandate invites the Department of Homeland Security into local agricultural employers' payrolls, which we believe will trigger panic in rural agricultural immigrant communities that do not have access to advocacy and legal support."
Food First also made a statement that explains how the pathway to permanent status is too limited and exclusionary. They state that the bill would, "pose setbacks for the majority of agricultural workers while greatly benefiting large-scale growers."
In summary, CATA explains, "This proposed bill does not include the right to organize for farmworkers, does not provide for any job security, and ties farmworkers ability to qualify for a legal immigration status to an obligation to keep working in agriculture for many years to come."
But legislators opposed to the bill did not cite these concerns in the House markup in November. These representatives mostly cited concerns from the grower communities in their states. For example, Rep. Collins (R-Ga.) stated that the bill would not sufficiently fix the labor shortage for poultry producers in his state. Opponents also argued that the improvements to the wage rate under the new bill would not be "market-based," and the section for resolving disputes under H-2A does not do enough to protect  growers from "frivolous litigation."
In the same markup, Rep. Sylvia Garcia (D-Texas), stated, "For too long discussions around farmworkers have viewed them as mere generic units of labor, disposable." This bill, she said, "views them as people, valuing their human existence." Similarly, Rep. Pramila Jayapal (D-Wash.) explained that there are those suffering from physical harm as a result of their work, "while people benefit from the fruits of their labor." She explained that, "there is actually incentive to leave this situation broken … literally utilizing this labor … criminalizing the immigrant workers doing this work."
But representatives in this session expressing concerns with the bill frequently used derogatory language when referring to farmworkers. Both Rep. Gohmert (R-Texas) and Rep. Lesko (R-Ariz.) expressed concern about giving "illegal aliens" legal status. Rep. Buck (R-Colo.) even implied that the bill would encourage "allowing felons and violent criminals to remain in the country." I believe that these comments reflect hostility towards migrants and may exacerbate racist and dehumanizing rhetoric in political spaces.
Historically, the US food system has relied on the labor of enslaved and vulnerable people. The United States colonized history began with the use of slave labor for cash crops. More recently, the Bracero Program (1942-1964) and the H-2A visa system have legalized seasonal, migrant farm labor with little to no protections against abuse and wage theft. The cooperation and compromise of the Farm Workforce Modernization Act is encouraging in that it reflects bipartisan political will to reform a broken agricultural immigration system. But one thing should be unwavering, and that is the recognition of the humanity and contribution of farmworkers. Looking forward, we must work to improve the "Us vs. Them" dynamic between growers and farmworkers. The right to safe and dignified work is crucial for all those who work the land. Growers and harvesters alike are stewards, and no one is illegal on stolen land.
Image: Marc-Lautenbacher, Strawberry harvest of an autumn variety in Quebec, Canada, 2019.
More Stories and Viewpoints