Lauren Fowler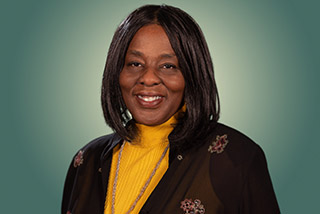 ---
111 Market Place, Suite 840, Baltimore MD 21202
Senior Financial Analyst

Lauren joined the Center for a Livable Future in 2023 as a senior financial analyst, bringing more than 23 years of experience in finance and administration. For more than 30 years, she has been part of the Johns Hopkins community, including positions in Physics & Astronomy, the School of Medicine, and at the Space Telescope Science Institute. She has experience in many roles, including administrative supervisor, database and grants manager, and as a senior grants and contract analyst.
Lauren attended Coppin State College majoring in communications and computer science, and she has completed several information systems undergraduate courses at Johns Hopkins.
She was drawn to the Center by wanting to be part of an organization that emphasizes learning about food and striving to eat better for a variety of reasons, from personal health to planetary health.
Lauren is an avid gardener, aspiring novelist, companion to a golden doodle, and an experienced traveler. She travels with a group known as the Travel Divas, and her favorite destination so far has been Ghana, to which she plans to return.