Bryan Sobel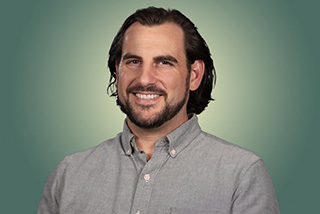 ---
111 Market Place, Suite 840, Baltimore MD 21202
---
Senior Program Officer

Bryan joined the Center in 2021 as a Senior Program Officer with a primary focus on Food Systems & Agriculture Policy Solutions. He brings diverse experience as a systems practitioner in program implementation, production agriculture, research, and extension.
Bryan holds a Bachelor of Science in Agriculture from West Virginia University and a Master of Science in Horticulture from Cornell University. His research at Cornell focused on the connection between public health messaging and small farm enterprise viability. Through this work he promoted the adoption of regenerative agriculture practices, such as agroforestry, and the cultivation of underutilized and indigenous crop species.
Bryan came to the Center after nearly a decade working in International Development program implementation including long-term stints in Haiti, Senegal, and Bangladesh. His work has focused on public health impacts of food systems including food safety, integrated pest management, innovative communication technologies, micronutrients, and agroecology. With this varied experience, he draws from multiple sectors and applies a systems lens to policy solutions.