Alicia Carter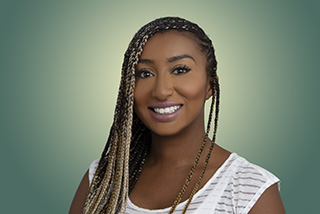 ---
111 Market Place, Suite 840, Baltimore MD 21202
Operations and Event Specialist

Alicia joined the Center in 2016 as an Operations and Event Specialist, bringing with her more than ten years of experience that includes event management, accounting and administrative operations support.  At CLF, Alicia takes on a wide range of responsibilities, including leading the CLF Events Team in planning and implementation; working closely with CLF hiring managers and divisional Human Resources to recruit staff, student research assistants, interns, and volunteers, and; coordinating key aspects of CLF's daily operations that enable and support program activities, project implementation, and the efficient use of space, equipment and other resources. 
Born in Germany, Alicia grew up traveling with her family as the child of a US Army family, and she suspects that these experiences fostered an eclectic palate and a love of ethnic cuisine. She cooks plant-based meals for herself and enjoys helping others to do the same. In her former position at Johns Hopkins, she volunteered her time to organize a Meatless Monday program at Keswick and two Mt. Washington cafés, and served as the manager for the Johns Hopkins at Keswick Farmers Market. In 2015 she co-founded Retrofit Renegades, a nonprofit that seeks to promote healthy eating and fitness to underserved youth by pairing entertainment with fun and fresh comic-style collateral. In 2016 she was recognized by the JHU Office of Sustainability with the "Above & Beyond" Green Blue Jay Award, and she is also a winner of the Real Food Hopkins' VegFest cook-off as a guest chef.
An altruist at heart, Alicia studied kinesiology and sociology at UMCP as a member of the College Park Scholars Program for Public Leadership; is an Institute of Integrative Nutrition Health Coach; is an AAAI-ISMA Certified Personal Trainer; and has earned plant-based professional cook certification from the Rouxbe School.
She is very interested in solutions for granting access to information and healthy food to those who live in disenfranchised communities and "food desserts," and she helps CLF to connect people through meaningful experiences at memorable events that inspire people to take care of their own health, the health of the public, and the health of the global environment.